---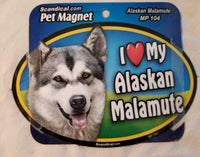 I Love My Alaskan Malamute Pet Magnet Sign
Great Decorations For:
Cars
Refridgerators
Lockers
Filing Cabinets
Magnetic Paint
Anything Metal
Perfect Gift for All Pet Lovers
Size: 4" x 6" Oval
Please remember when you purchase an item from us a percentage of the total sale amount goes to an animal in need. We have thousands of feral cats that need to be spay and neuter and way too many homeless dogs that need medical attention ASAP!!!