---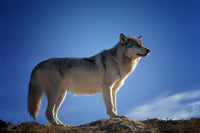 Lone Wolf Mouse Pad
Size: 7" x 8.5" x 1/8"
Non-Skid
Hand washable with mild detergent
Please remember when you purchase an item from us a percentage of the total sale amount goes to an animal in need. We have thousands of feral cats that need to be spay and neuter and way too many homeless dogs that need medical attention ASAP!!!