---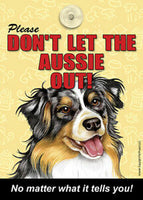 Sale
Please Don't Let The Aussie Out No Matter What It Tells You!!!

Keep your dog safe and make visitors aware of them by placing one of these signs at every entrance of your home
5" x 7"  Lamented Plastic Sign
We are associated with a nonprofit animal rescue group so when you purchase any item from us a percentage of all sales goes to help them rescue feral and stray cats along with homeless and stray dogs. We help with spay and neuter programs to help keep the population of feral kittens and cats and with a little luck find them permanent homes.